BOOPIE DOOPIE
Professional illustrator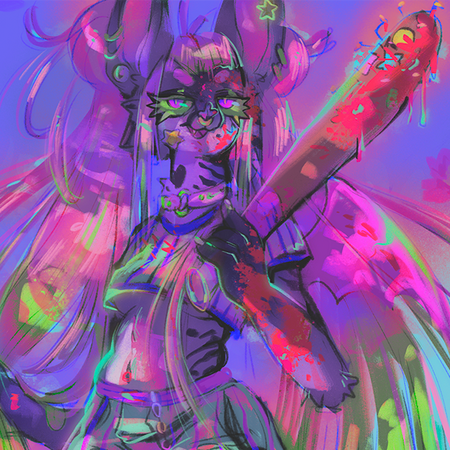 To support me, you can tip me!
!important notice!
- Read my ToS before commissioning me.
- I DO NOT work for people under 18 years old.
- Paypal only, USD, payment upfront. I do payment plans from +$150! Ask me for more info.
- Prices may vary depending on complexity.
- I work better with a minimum of freedom.
- I can cut feet on full bodies for composition reasons. Price won't change.
- I don't refund unless you're waiting for months with no update anywhere. It's your responsibility to look on social medias and contact me if there's an issue with your commission.
- An ID will be needed for NSFW commissions.
- Since my style is always improving, it's impossible to get the exact same result than my examples. However, I will ALWAYS put all my heart and high quality in a piece.
- I let myself the right to experiment on any commissions even outside of the "experimental" commission type.
- DO NOT commission me if you expect me to rush your commission. I am a slow artist! Expect a month or two of wait minimum! Could take less but not often.
- If you want a second version of the same illustration, ask me upfront. Fees may apply.
- I charge complexity fees for any NSFW project, same goes if you want me to draw clothes on your oc(s).
- I will gladly accept references of any sort such as your own pictures of yourself of a pose! It always helps a lot! Feel free to scribble something yourself if needed.
- I preferably prefer working from moodboards or from a theme for custom designs.
| Y💖S | N🚫 |
| --- | --- |
| Artistic nudity | No illegal NSFW |
| Any species, bodyshape, gender | No extreme fetish (ask) |
| Customs (ask) | Fan art |
| NSFW (ask) | Mecha (ask) |
Doodls
$50 for 1 doodle
$170 for a full sheet of doodles (includes at least 3 doodls on 1 sheet)
Artistic Freedom
[Do you like surprises?]
Sarting price: $180, no maximum limit
Tell me your budget and I'll make an experimental piece! More you give, more your piece will be detailed!Full artistic freedom, no direction. No wips. You get the final piece like a surprise in your email! The result may vary since it's experimental. That means I will try new things such as a new brush or style. You can tell me a few things you like or your oc like for inspiration.What you could get (always colored):
- Headshot, half or full body
- Chibi
- Shaded
customs
\Ask before: I'm not always open for customs!//
The client has to provide a moodboard of some sort/a theme and a species.Ranging price: from $160 depending on complexity
Includes a full body picture of the character (front/semi side view), the colors palette & name if there is